Tricity gets its first fully equipped day boarding school -Roots Country School
School comes up in Panchkula's DLF The Valley
The school is the second branch of HP's legacy boarding school – Roots Country School in Baghi near Kotkhai in Shimla.
Panchkula/Pinjore, May 18, 2023: Roots Country School (RCS) Tricity's first fully equipped state-of-the-art day-boarding school which is nestled in the pristine environs of the Shivalik foothills at DLF The Valley here, has formally announced the start of operations. RCS, Panchkula, is the second branch of the iconic legacy school – Roots Country School, founded in 2003 by a visionary and dynamic couple Sunil Rotha and Kriti Rotha in Baghi near Kotkhai, Shimla Hills, Himachal Pradesh. A press meet was addressed by the school's Co-Founder Kriti Rotha and the Principal of RCS, Panchkula – Susan Bhagra to share details about the new school.
"We are trying to fill the gap of a holistic day boarding in the Chandigarh capital region. Our school will come as a big relief to working parents – generally both father and mother these days are working. Even single mothers and fathers will benefit. The parents will no longer need to worry about the pick-up of their children during their office hours. The school keeps the children in day-boarding and the parents can pick their wards on getting free from work," said Kriti Rotha.
"Kids will be in safe-professional hands after regular school hours and they will get a wholesome meal and rest. They will complete their homework too. Parents will also heave a sigh of relief as they will now be free from the clutches of the tuition culture. The students during their stay back will participate in constructive activities. All this will reduce screen time which children get exposed to after going home post-school. Their regimented routine at school will discipline them for their future life," added Kriti.
The school has RCS has an imposing building that has become a cynosure for all eyes. There are separate dormitories with bunk beds for boys and girls. The school has – an all-weather swimming pool, an in-house bakery, a kitchen, an indoor games area, a music room, a dance hall, a tennis ground, table tennis, a badminton hall, basketball, karate training, snooker, an AI lab et al. There is a fully equipped library and an e-library too. What's more, the school building is centrally air-conditioned with a multipurpose auditorium having the capacity to seat 700 people. An infirmary is also in place to help children with their health.
It is noteworthy that Sunil Rotha who also owns orchards in HP, founded RCS, Baghi, Kotkhai, Shimla Hills, HP – a residential school under the Society for Education and Environmental Development (SEED).
Sunil said in a statement, "The idea behind setting up RCS at an altitude of 9000 feet with surroundings of lush apple and cherry orchards and beautiful dense cedar forests, in HP, was to stop the migration of children from the region to other parts of the country for want of better education. The educational initiative has helped the region retain its socio-economic and cultural equilibrium."
The school started with just 21 students in 2003 and now houses about 1000 students where 450 students belong to different states of India and abroad too.
"We aim at providing the facilities available in the HP school at RCS, Panchkula too. The Panchkula school will be grooming students. We train students for the real world, rote-based academics is not practiced," Kriti said.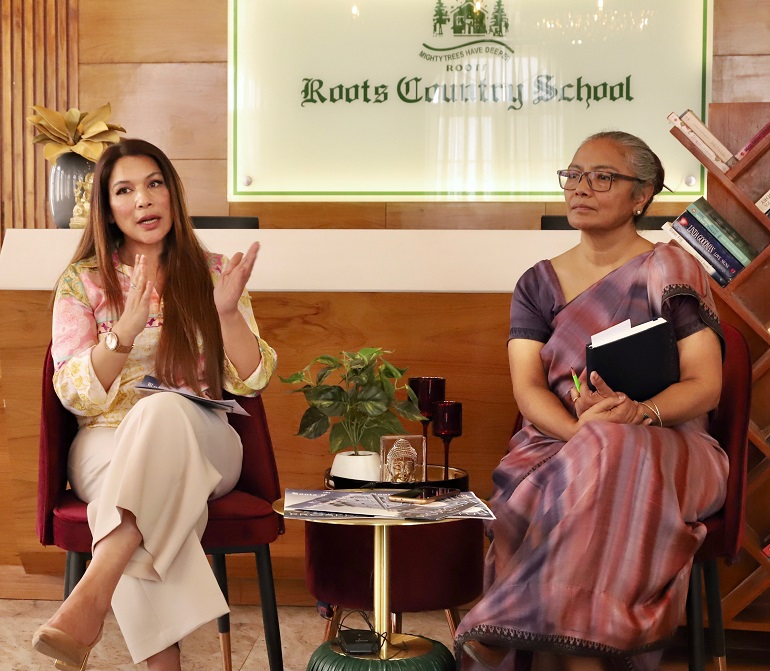 Susan Bhagra added, "The school presently is from pre-nursery till class 7 and we use the LEAD system of pedagogy which is benchmarked with the Nurturing Early Learners (NEL), Singapore program and is in line with NCERT as prescribed by National Education Policy (NEP) 2020. Subjects are taught as a skill and our approach is making students learn by doing."
The school's vision is to inspire its students to become great citizens of this great country – India.